Nite Jogger Hologram Window + In-store activation
Adidas Nite Joggers Hologram Installation. Concept and design created by Visual Feeder for an event and Installation put together by Notre with music provided by DJ Toro Y Moi. (Chrome Nite Jogger Concept) An animated 360° view of the Nite Joggers. The illuminated rotation highlights the sneaker's reflective technology and the versatility of the sneaker in different 3D environments (HDRi Sky-domes) > Animated chrome high-poly particle dissolve with wind simulation to reveal the shoe> Animated infographic design that show live ratings and reviews of the Nite Jogger with data gathered from adidas.com> Infographic designs highlighting the technology (3M Reflective material, lightweight design, color-ways, Boost Technology and material composition.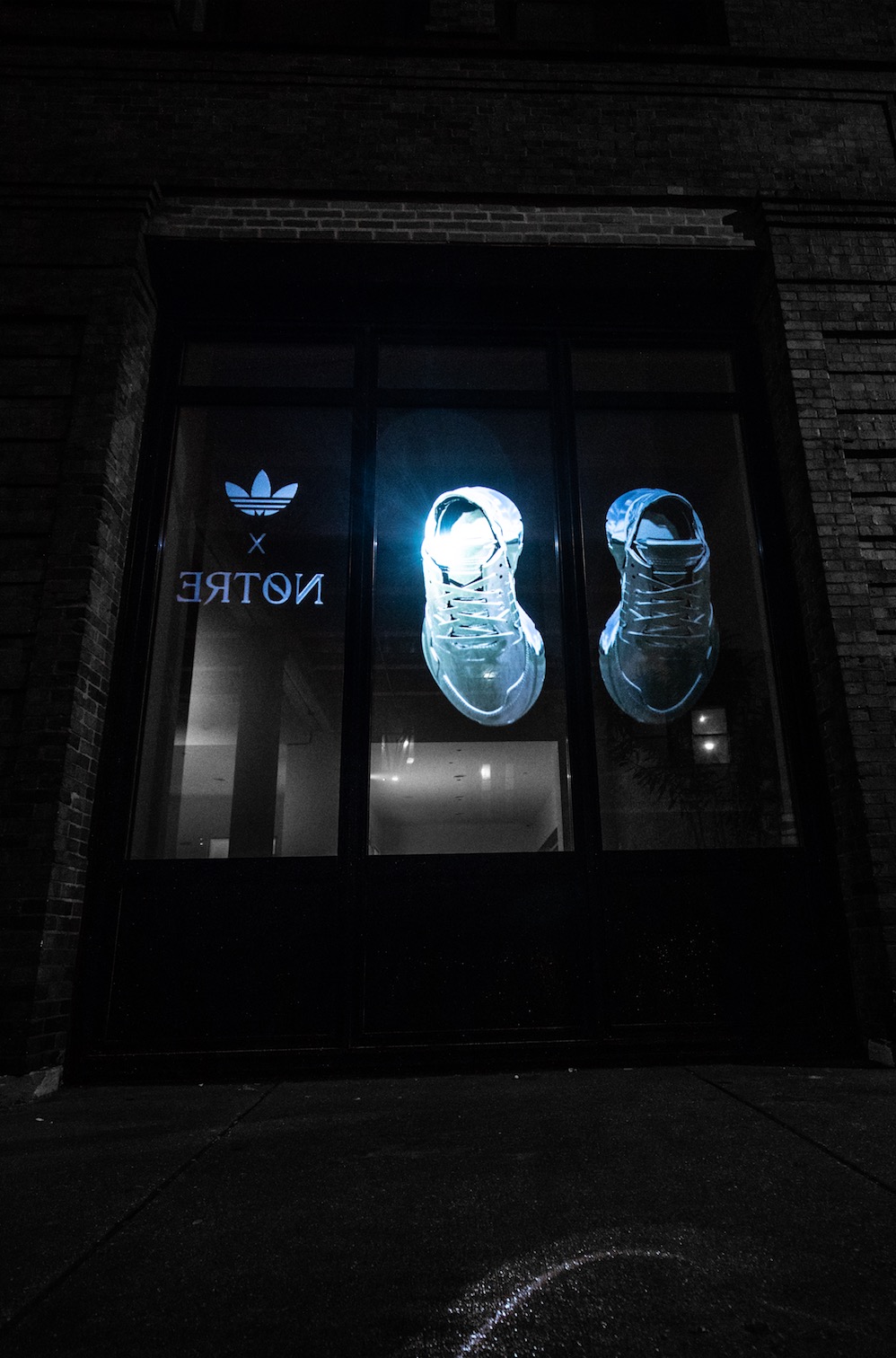 Bicentennial Edition ///Shadow Exposed in collaboration with Judy Suh
Shadow Exposed was a piece created for the iLight Singapore Bicentennial Edition, an annual light festival in Singapore. The installation is a collaboration piece with Judy K Suh and plays with the nature of projections being both moving images and a source of light. It invites visitors to interact with the installation using their own shadows to reveal or conceal layered images. On a large screen stretched along the Mist Walk, projections of images from Singapore through the ages will be interlaced. Depending on where the visitor stands, his/her shadow will reveal different layers that offer a glimpse into Singapore's history and evolution. The installation was displayed outdoors in Marina Bay during the month of February in 2019.
Morgan's on Fulton projection.
Louis DeGuzman Solo Exhibition with art animated by The Mill Chicago.
Visual Feeder's collaboration installation piece with the amazing @louisdeguzman and @mill_chi for his exhibition gallery opening. Very grateful and proud of everyone that put this amazing project together. More awesome projects coming 2019.
CASCADE// Digital Waterfall Activation
CASCADE// In collaboration with our good friends at Axle.NYC we created an environment that simulated an outdoor oasis where guests could escape the constant stimulation of urban life. Utilizing animation, projection mapping, 3D structures, and dry ice, we allowed guests to enter into the new possibilities of a true sensory experience. Located at the Moore building in the Miami Arts District.

Interactive Installation for AXEL AUDIO in Miami Design District for YAI event. This interactive installation consist of combining headphones from Axel Audio and Roli Seaboard. This project enabled users to play musical notes on a ROLI Seaboard while seeing the object change in color, movement and texture.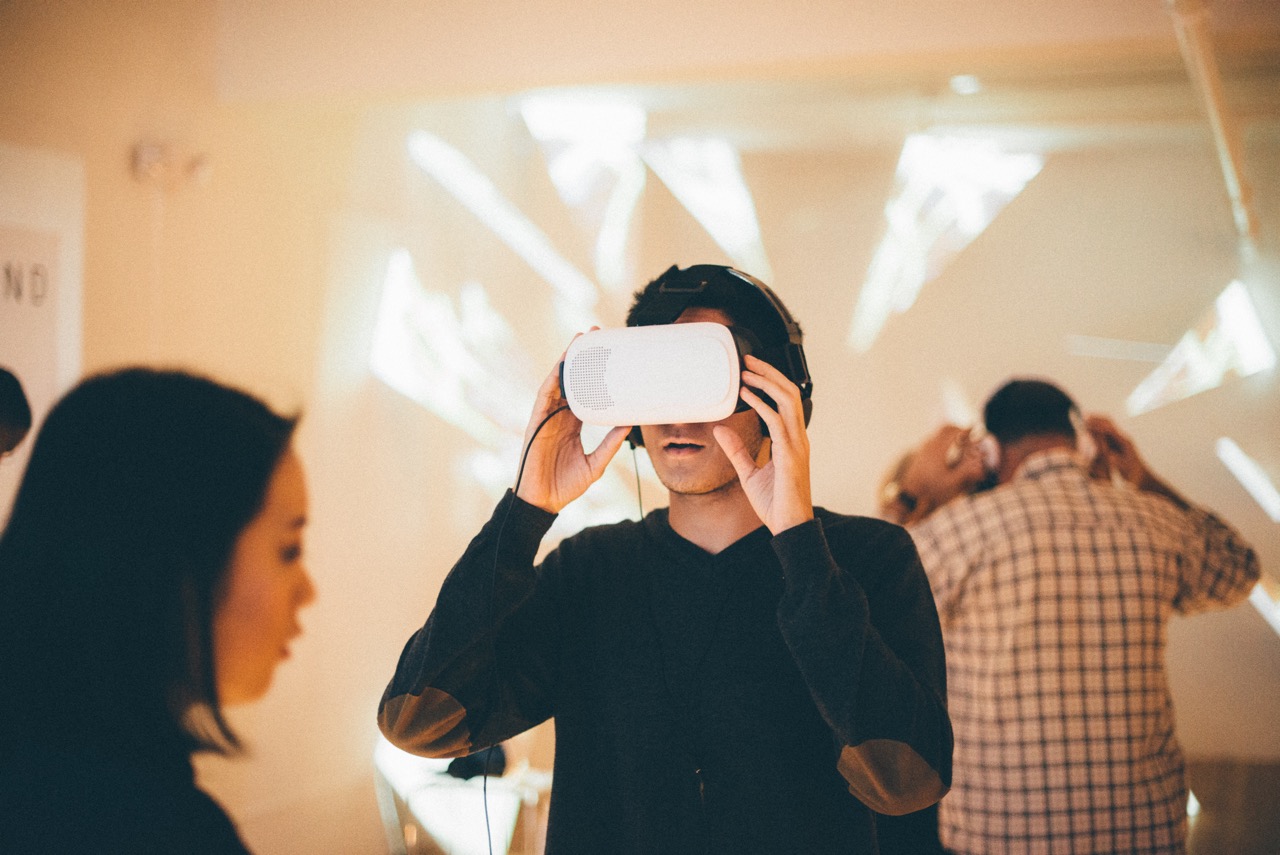 Cindy's Rooftop at the Chicago Athletic Association consisted of projecting onto a 70' ft long ceiling. This was for a Halloween event sponsored by Bacardi and showcased many Installation works in all the hotel rooms with this installation being at the center entrance of the main hallway. Our vision was to create a futuristic and tasteful halloween environment for all the attendees at the event. This project took 6 total projectors to illuminate the entire hallway.
Sakura is one of the most well know karaoke bar in China-town Chicago. This bar has a lot of history, with its already bright and vibrant interior we needed to create visuals to compliment and work with the entire environment. We mapped the entire main walls of the underground bar and the 20ft. main bar table. We turned the bar table into a koi pond, this brings a familiar culture to the Sakura. The wall design cam from colors that are already in the bar, saturated blues, pinks, and purples. We decided to go with a more abstract designs for the walls this way they still function as a wallpaper but with movement and life.